First Nonprofit Group to attend Texas Association of Community Action Agencies' Annual Conference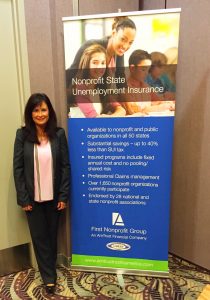 First Nonprofit Group's (FNG) Regional Sales Director, Beth Quynh, is gearing up for another trip to the Texas Association of Community Action Agencies' (TACAA) annual conference. This year's event will take place Wednesday, May 6 through Friday, May 8 at the Doubletree Hotel in Austin, Texas. As an exhibitor, Beth is excited to answer any questions that community action agency and nonprofit organization attendees may have about First Nonprofit Group's state unemployment insurance (SUI) options.
Formed in 1968, TACAA is a nonprofit organization that helps unify Community Action Agencies in the State of Texas to aid success and operations of programs that help Texans below the poverty line. This year's annual conference, titled "Embracing Change for Higher Standards", will address an extensive variety of operation matters from direct services to funding to board leadership. For a full agenda of scheduled events, click here.
The State of Texas' average unemployment tax cost, per employee, has increased by 134% since 2009! There is no better time than now to learn about potential savings options to finance this cost. The services offered by FNG ensure that organizations have the funds on hand to reimburse unemployment claims, while also freeing up money to be used in other areas of operations. No matter what your agency's focus at the conference, all 501c3 organizations, including Community Action Agencies, and governmental entities can learn how to significantly save on state unemployment insurance in Texas by stopping by the First Nonprofit Group booth or contacting us directly by phone at (800) 526-4352 or online www.firstnonprofitcompanies.com.