Member Spotlight: Blue Water Developmental Housing
We are pleased to spotlight First Nonprofit Unemployment Savings Program member, Blue Water Developmental Housing (BWDH)! BWDH provides a variety of housing and support services through CARF*-accredited residential and community based programs in Marysville, Michigan for people with special needs and those involved in their lives.
Since its founding in 1976, BWDH has empowered, educated and supported individuals with disabilities through a variety of services, including their Residential Program. The Program offers community living in family-like settings of its ten group homes in two counties and 16 supportive living arrangements. The homes administer an array of social, medical and health services to over 200 individuals. Staff also assist individuals with Skill Training in order for them to develop the tools necessary to live as independently as possible.
Through the Enriching Community Life Program, para-professional staff provide community-based support that is designed by the individual using a person-centered planning process. Individuals have the opportunity to choose from a variety of curriculum based skill sessions. Each session provides "real life" experiences to increase individual skills such as problem-solving techniques and to establish connections in the community.
Success with First Nonprofit Group – Savings of over $170,000!
In 2013, First Nonprofit Group estimated a 2014 SUTA cost of $47,265 for Blue Water Developmental Housing. As a member of our Unemployment Savings Program BWDH would only pay $27,659 that same year. By enrolling, BWDH had an immediate cash savings of $19,606 in 2014 and has saved over $179,451 through 2017 with First Nonprofit. That's over a 60% savings!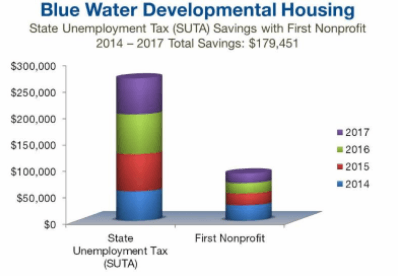 We look forward to many more years of success with Blue Water Developmental Housing! For more information on their services, please visit their website: http://www.bwdh.org/.
* Commission on Accreditation of Rehabilitation Facilities